ConnectHear
Basic, everyday phrases in sign language that you should know
Updated: Aug 18, 2020
Pakistani Sign Language (PSL) is an essential language one should learn in order to communicate with deaf people. Deaf people are present in every city, country, and region, and one of the most important things they want is for hearing people to make a bigger effort in communicating and engaging with them.
Sign language, therefore, is something each person must be able to understand and to help readers with this task, we have compiled a bunch of easy-to-learn and everyday-used phrases in sign language, which will, additionally, make regular conversations much more interesting.
In order to make them easier to remember, we have also presented them in GIF form, courtesy of our talented staff right here at ConnectHear.
This first one is for those of you who took time out from your busy lives to read this article:
Where are our manners? Here's how to greet someone you meet, the proper way:
Bring out your inner Akshay Kumar, in sign language, by telling your friends that they have made a great joke (or as Akshay would say "Mast Joke Mara"):
On your next Zoom call with your friends, let them know how much you miss them in this quarantine in a new way:
Speaking of friendship, celebrate and congratulate your friends on their accomplishments and achievements. Whether it's their birthday;
A new job or a promotion;
Or when they finally get around to working out after ages of procrastinating:
Maybe, you can even motivate them by applauding:
Show your appreciation to someone who has helped you out in your time of need:
Now that we have covered thank you, what else can I say except you're welcome:
Don't we all have a special person in our lives? So, why not express how you love them in a unique way:
And for those snakes, traitors, and people you just can't stand, here's a not-so-subtle way of showcasing how you feel about them:
You can apply this phrase in a number of ways (we will leave that for you to decide). For us, the most fitting use is when someone walks into the room with free food:
And when 2020 is (FINALLY) over, you can say goodbye to this dreadful year and celebrate the new year with your newfound sign language skills: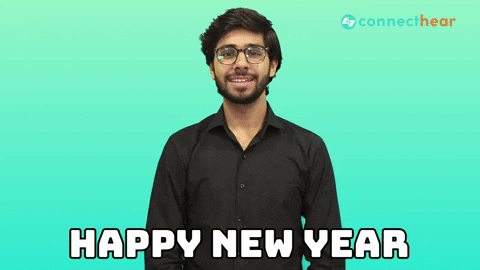 That's all for sign language 101 today!
Did we interest you? You know, we teach Pakistani Sign Language in-person and online too. Sign up with us!
Did you know? We also have an entire playlist of GIFs like this for all you sign language enthusiasts. Click here to check them out!